Horseback Riding
The Horses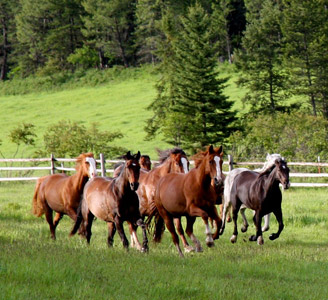 We are proud of our herd. We have approximately 40 head at the Ranch during the main summer season. Our horses are well broke and suited for everything from trail ridin' to pushin' dogies. Ranging in color and breed from the athletic Quarter Horse to the colorful Paints and Appaloosas, they are well suited for mountain trail riding because of their steady, yet willing natures. (Learn more about our horses). Better yet, see our horses real time on the Laughing Water RanchCam
We have horses for all levels of riding experience from the expert to the beginning youngster. We want you to feel comfortable with your horse and take great care to match you with a horse that will become a friend.
From the very start you'll notice that our wranglers are experienced horse people who love their jobs. They make it their business to help you become the cowboy or cowgirl you always wanted to be.
Our wranglers (meet our wranglers) will look at your experience levels and information that you provide on your pre-arrival form, and will hook you up with the right horse. We can't honor requests for color, but if you want a slow or aggressive horse we will do our best. You will remain with the same horse all week so that you can get to know and love each other. Switching out in the middle of the week is done on a case by case basis for a good reason.
Gentle, Safe Horses
Our horses are all very well trained. We don't have many accidents because of the gentle nature of our animals. However, they are living creatures and there are situations that can happen - (getting stung by a bee, stepping in a hole and tripping). We have experienced wranglers who divide the groups into levels of riding, no more than 7 guests per Wrangler. They take great care to insure our visitors' safety.
Tack
The tack we use at the ranch is selected with the comfort of the horse and rider in mind. Most of our saddles are mountain trail or pleasure saddles.
We mainly use snaffle bits which are one of the gentlest around.