Our Trails
Laughing Water Guest Ranch encompasses 220 beautiful acres of mountain timber and rolling pasture. Nestled in a beautiful mountain valley just west of Glacier National Park and bordered on three sides by the Kootenai National Forest, this guest ranch has a wonderful trail system for scenic and challenging horseback riding. Colorful names such as the "Trail of Tears", "Ron's Overlook", and the "North Fork of Deep Creek Trail" will become part of your memory book. As you visit nearby lakes and take lunch next to a babbling brook or scenic vista, you probably won't see any other riders, since Laughing Water is the only dude ranch in the area.
Sitting at an elevation of 3,200 feet at the lodge and 7,500 feet at the peaks, you are likely to see deer, elk and maybe even bears on your outdoor adventures. At Laughing Water Guest Ranch you will become familiar with the reaches of Laughing Water Creek, the majestic heights of Mt. Marston, Mt. Fir, and Baldy Mountain as well as the remote beauty and stillness of Martin Lake.
Mountain Trails on Horseback
During your visit to Laughing Water Ranch you'll find that riding horses in the mountains is fun, safe and very rewarding. We'll teach you to lean forward when gaining an incline, lean backwards when descending, and to not overcontrol your horse on narrow trails, "let him do the walking". Like driving on the highway, it is a no-no to tailgate, especially when the ground is treacherous, yet giving too much space between horses is also to be avoided. You'll find out what kind of tack makes mountain riding safer, from lightweight saddles with high backs to breast collars and snug cinches. This and more is yours to be mastered as you become an expert mountain rider at Laughing Water Ranch. And remember, for those less adventurous souls who wish to remain in the flats, we can surely accommodate you with some excellent rides to nearby lakes and meadows.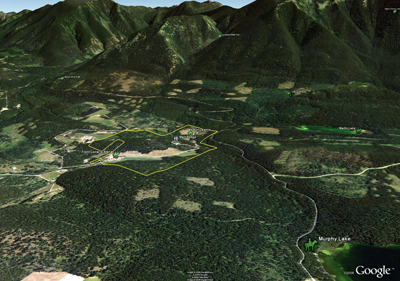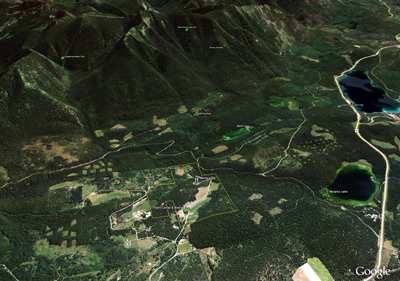 In the spring and fall join us for the time of your life pushin doggies at our round-ups and cattle drives .