Ranch Romance - a love story
My Mom had always wanted to go to a dude ranch, so when my parents suggested we gather at Laughing Water Ranch for a family vacation we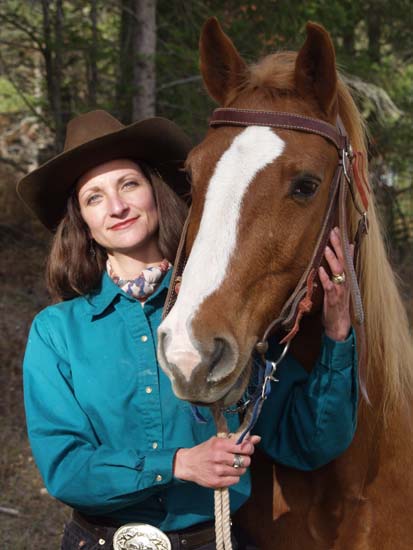 were all really excited to see each other and experience a unique adventure together. As we drove into LWR we were recounting family stories that had our sides aching from laughter. We all paused as we drove under the "Welcome to Laughing Water Ranch" entrance… What an appropriate name magical memories are made of.
After getting settled into our cabins we gathered at the lodge for the first of many hearty meals. (My sister, Monica, and I were thrilled at the variety of dishes prepared for our vegetarian palates.) After our feast a guy named Ted walked over to introduce himself. I was quite impressed with the friendliness of this wrangler. I felt like I was being reunited with an old friend. As the sun went down and we all said, "Goodnight," Ted said, "Goodbye." He said he was leaving for a three-day Amsterdam trip. My mom and I exchanged puzzled glances. That's when I found out Ted was the owner and a Minneapolis based 747 pilot for Northwest Airlines.
Monday morning as our week at Laughing Water Ranch began my brother-in-law, Michael, was a bit apprehensive about riding horses, but he was hooked after day one. Even when the rest of my family went into Canada to visit Fort Steele he and I saddled-up for our daily ride. The scenery was breathtaking, and I realized the longer the ride the more detailed and humorous the stories of the rugged Montana wranglers.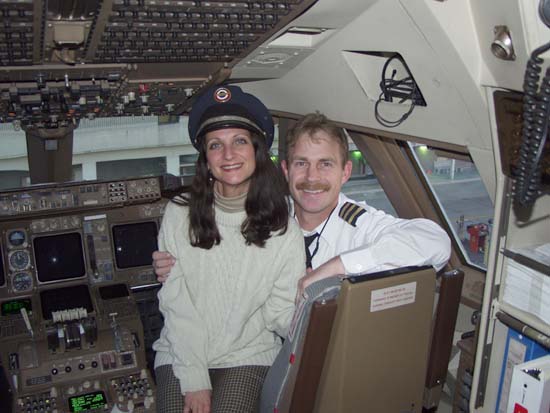 On Thursday evening we had a picnic dinner at Dickey Lake. Ted was back from his trip and he was once again the gracious Western host. As the guys worked on honing their horseshoe skills I over heard my dad telling Ted I was a Detroit based flight attendant for Northwest Airlines. Ted looked as shocked as I had been to find out we had that airline connection. As my sister and I talked to him about his recent trip Ted and I also realized we both shared a fondness for Amsterdam. (He was still a nice guy even though he wasn't the wrangler I thought he was.)
Our week continued on and each activity was more fun then the last: We went from whitewater rafting at Glacier Park to the Kalispell Rodeo and back to Laughing Water Ranch where Ted greeted us with, "Welcome Home," and it struck me how it had become home and the staff and other guests our family. If only for a week, it was a moment of our lives that revived the value of family and celebrated the stability of tradition.
Needless to say we weren't ready to leave Laughing Water Ranch or each other, but our week was coming to an end. Saturday night was the last hurrah, the square dance, so I had my dad take me into Eureka where I bought a pair of $20.00 cowboy boots from the second hand store-my salute to the old West. I had come as a dude, but I was determined to leave as a cowgirl.
The wranglers were chivalrous as they asked all of us ladies to dance, spinning and whirling us in true cowboy fashion. In the middle of this hoedown Ted asked me to dance. I had a smile frozen on my face for the rest of the evening.
As we chatted after the dance he mentioned that he had a layover in Detroit in a few of weeks, and he asked if I would join him for dinner. Actually, I wasn't too interested in dating. I had only been with the airline for a year, and I was leading the carefree life of a gypsy. It was simple. I'd go to Detroit to fly my trips and then on my days off I'd head out on a whim. Plus, I was a little apprehensive about dating a pilot, since there was the potential that I might fly with him. I was going to have to think about it.
The next morning as my family and I drove to the airport I asked them their gut feeling on this cowboy/pilot. Should I go out with this guy? Should I agree to meet him in Detroit? My sister said, "I told you before we even left for this trip I had a feeling you were going to meet the man you were going to marry." The whole family-Mom, Dad, sister, brother-in-law and even my one-year old nephew, Guthrie (although he couldn't verbalize it) had taken a liking to him. They thought I should give him a chance. My dad's comment was, "He seems like a nice guy… He's even hanging out with your parents." While I was checking us in at the airport I turned around to find Ted talking to my folks. What a schmoozer! As he walked through the airport with us I told him that I could work it out to meet him in Detroit in a couple of weeks.
In the interim I went back to work as a reserve flight attendant wondering what my next trip would be. Hong Kong, Paris, Lansing? I was pleased to get a six-day Amsterdam trip and shocked when I saw a guy in a leather vest and Wrangler jeans sitting in the restaurant of the hotel. There was no doubt in my mind that it was Ted. Fate? Really, what were the odds?!
A few weeks later when Ted called to confirm our dinner date he made a special request. He wanted me to wear the same outfit that I'd worn to the square dance. I had planned on dressing a bit more feminine for our first date, but I obliged and met his plane wearing my faded black Levis, black t-shirt and my second hand cowboy boots. He brought French wine and Dutch cheese to snack on before dinner. I was impressed. I thought he was very old-fashioned and romantic. Before we left for dinner he gave me a present: A black belt with a big ol' belt buckle; just like those cowboys at Laughing Water Ranch wear! A year and a half later we were married on April 6, 2001. Now, I'm his square dance partner for life!